Sean Smith
(born July 14, 1987 in Pasadena, California) is an American football cornerback for the Miami Dolphins of the National Football League. He was drafted by the Dolphins in the second round of the 2009 NFL Draft. He played college football at Utah.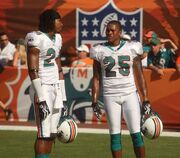 On July 24, 2009, Smith signed a four-year deal with the Dolphins, worth $3.166 million, including a $945,000 signing bonus. That same year, he became the first rookie in Miami Dolphins history to start every game.
Ad blocker interference detected!
Wikia is a free-to-use site that makes money from advertising. We have a modified experience for viewers using ad blockers

Wikia is not accessible if you've made further modifications. Remove the custom ad blocker rule(s) and the page will load as expected.