Donald Francis "Don" Shula (born January 4, 1930) is a former American football cornerback and coach.
Joe Robbie, owner of the Miami Dolphins, signed Shula to a contract to become Miami's second head coach.
Don Shula is the first coach to be 4-0 in the preseason,16-0 in the regular season then went to 19-0 the first team that had a perfect season. There is no other coach that holds this record.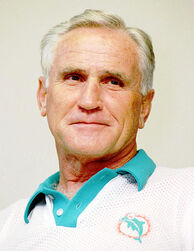 On July 26, 1997, Don Shula capped an illustrious career when he was inducted into the Pro Football Hall of Fame in Canton, Ohio, following his election into that shrine on January 25, 1997, his first year of eligibility. Shula's unanimous election to the Hall was the ultimate honor in a career full of record-setting accomplishments.
Ad blocker interference detected!
Wikia is a free-to-use site that makes money from advertising. We have a modified experience for viewers using ad blockers

Wikia is not accessible if you've made further modifications. Remove the custom ad blocker rule(s) and the page will load as expected.